International Amtran 1997: exploring the U.S the old school way
A sweet family of six are living and traveling in an old school bus, the "International Amtran" for the past 4 years. Look what they told us.
Quick facts about your vehicle International Amtran:
– Car Manufacturer: International
– Modell: Amtran
– Year of construction:1997
– how many seats: 70 (I think?)
– complete weight of vehicle: 24,000 pounds
– how many kilometers: 37 feet long
– cylinder carpacity: 8 cylinder
– output of the motor: 190 horse power
– driving license classify: We don't need a special license
– top speed: 65 mph
– motor fuel: Diesel
– price: $19,000
– costs of repair per year: About $3,000
– insurance: We only have liability insurance.
– vehicle taxes: $230 per year.
So tell us a bit about you and tell us – what made you want to start vanlife?
We are a family of 6 and we started living in our bus 3 years ago and then traveling full time 2.5 years ago. We wanted to travel with our children because we wanted to infuse our family with a sense of adventure, curiosity and flexibility.
There is a pervasive notion in our culture that you either do something before you have children or after they are grown and we just didn't buy into that. We wanted to show our children the U.S.!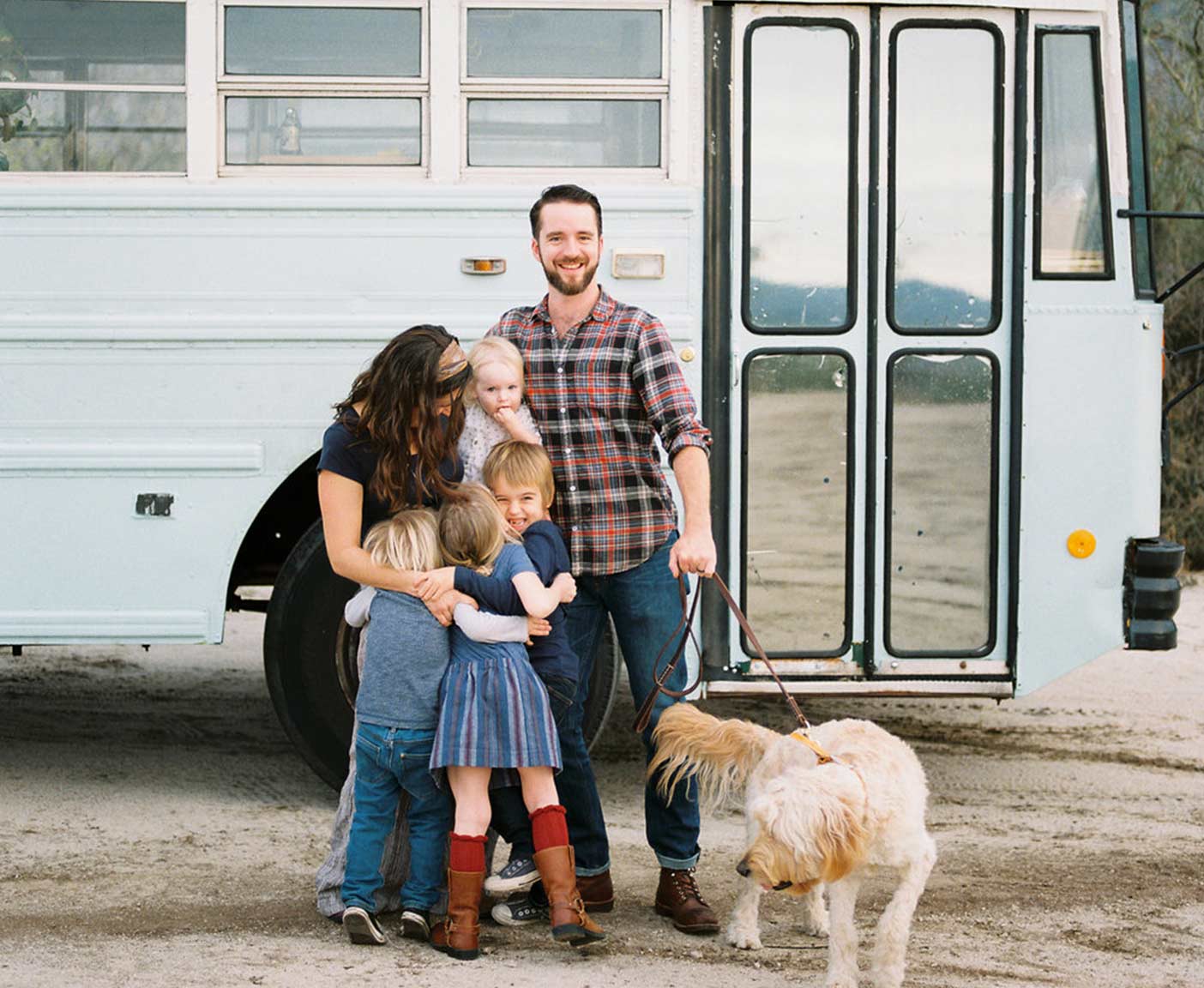 Why did you choose International Amtran as your home on wheels?
We chose a bus because being a larger family we needed the space. We also really liked the old school buses because they could be found rather cheaply and they are very safe when it comes to crash tests.
If we did a bus all over again the only thing we would do differently would be to get one that is a wee bit higher. Our bus has pretty low head clearance.
In what condition was your International Amtran when you first saw it?
This bus was actually already converted by another family in South Dakota and we needed something that was already converted.
This is our second bus we have lived in and after gutting and redoing our first bus we needed the second to be ready to go and this one was.
We did end up doing a major overhaul on it last year to add another bunk and redo the kitchen, etc. After living in it as long as we had we knew exactly what we needed!
Did you work on your International Amtran yourself or did you get a carpenter for the interior?
It already came with a particular footprint when we got it, but all the changes we have since made has been work we have done ourselves.
Its been really empowering to learn along the way and do the work and changes ourselves.
Would you change something about your vehicle when it comes to the interior if you could turn back time?
We love the layout we have now! I have toyed with making the kitchen an L- shaped kitchen and we might re-do another bus some day so we're brainstorming. The biggest change I would make would be to have picked a taller bus.
That way our growing children could have some more room in their bunks. Our kids have also asked for windows in their beds next time. So I guess we would make some changes, but as our bus is right now we really like it.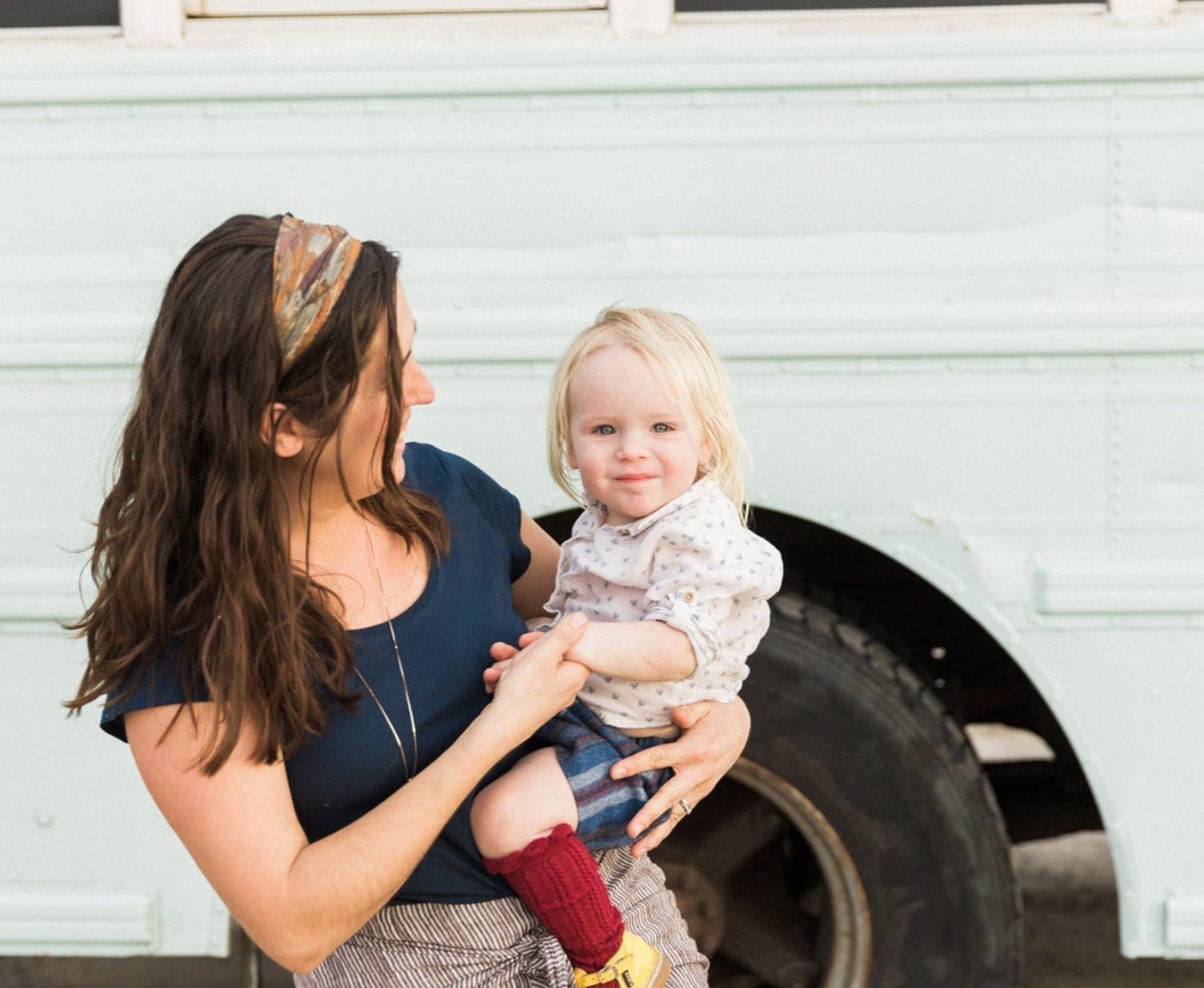 How long did you work on your International Amtran before you moved in full-time?
We worked on our first bus for about 4 months before we moved in. We have a lot of fond memories of all that work we put in. A lot of hard work and sweat equity.
Tell us a bit about your life in a schoolbus with your kids and husband
Oh my goodness it is very unconventional! We travel full time so that puts a different spin on things than if we lived in our bus and we were stationary. Our lives have a lot of moving parts…literally!
Sometimes moving around all the time gets very wearing and then sometimes we go park out in the middle of nowhere and just live life away from it all and its so refreshing!
We also homeschool our children and love letting them learn about life first hand and not from books. Its been a wonderful experience so far!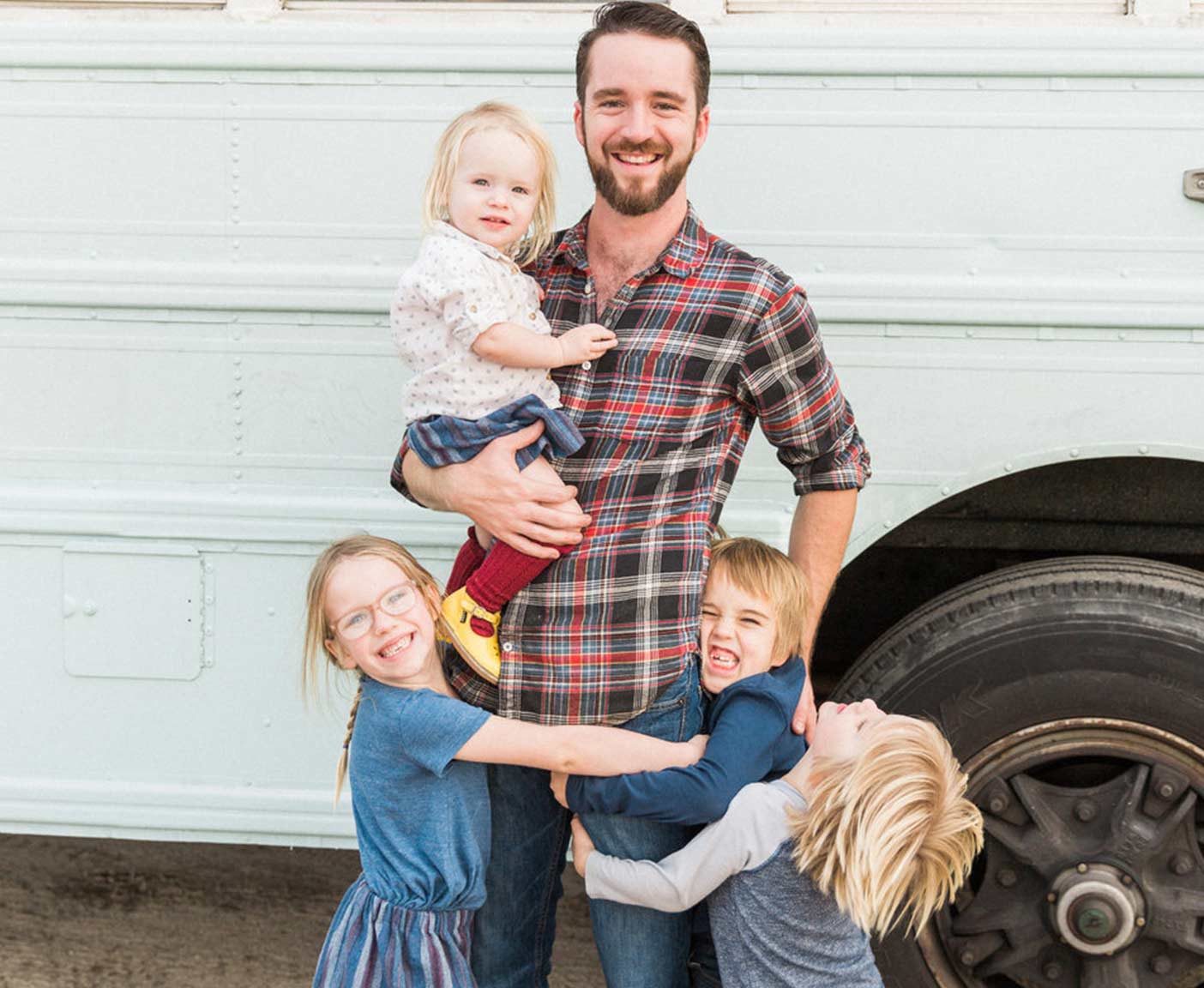 Which countries did you travel to with your vehicle?
We've only traveled around the United States and we are hoping to take a trip down to Mexico soon!
How long are you living in your International Amtran?
We've been in a bus for the past three years.
Some people prefer campsites for the night, others love free camping somewhere in the middle of nowhere. What do you prefer and why?
We really prefer to be off grid and out in nature. Or parking on farms in exchange for work. We do take advantage of a campsite too if we need to fill up our water tank or dump our grey water tank.
How do you shower?
We have a shower on the bus.
How do you cook?
Having a fully functioning kitchen was very important to us. I cook a lot of meals from scratch so having a kitchen was very important.
In fact, part of our remodel was making more counter space in the kitchen and that just made all the difference!
Tell us – what makes travelling and living in a van with kids such a great experience?
Oh my goodness we have just loved this experience! Its been wonderful being in such close proximity to each other. From a parenting standpoint I like being able to hear how my kids are talking to each other.
I can nip a fight in the bud before it gets out of hand because I can hear it. There are no other rooms with closed doors for anything to happen that I'm not aware of.
As for the travel aspect its been so wonderful to have all these adventures that bind us together and give us so many common experiences to talk about, marvel over or laugh about. We love it!
How much money do you spend in a month (roughly)?
It's hard to give a concrete number on this one. If we are parked somewhere and are not paying for gas our monthly costs are much lower and more standard like food and cell phone bills, etc.
Driving can get really expensive and can cost us upward of $3,000 to get cross country.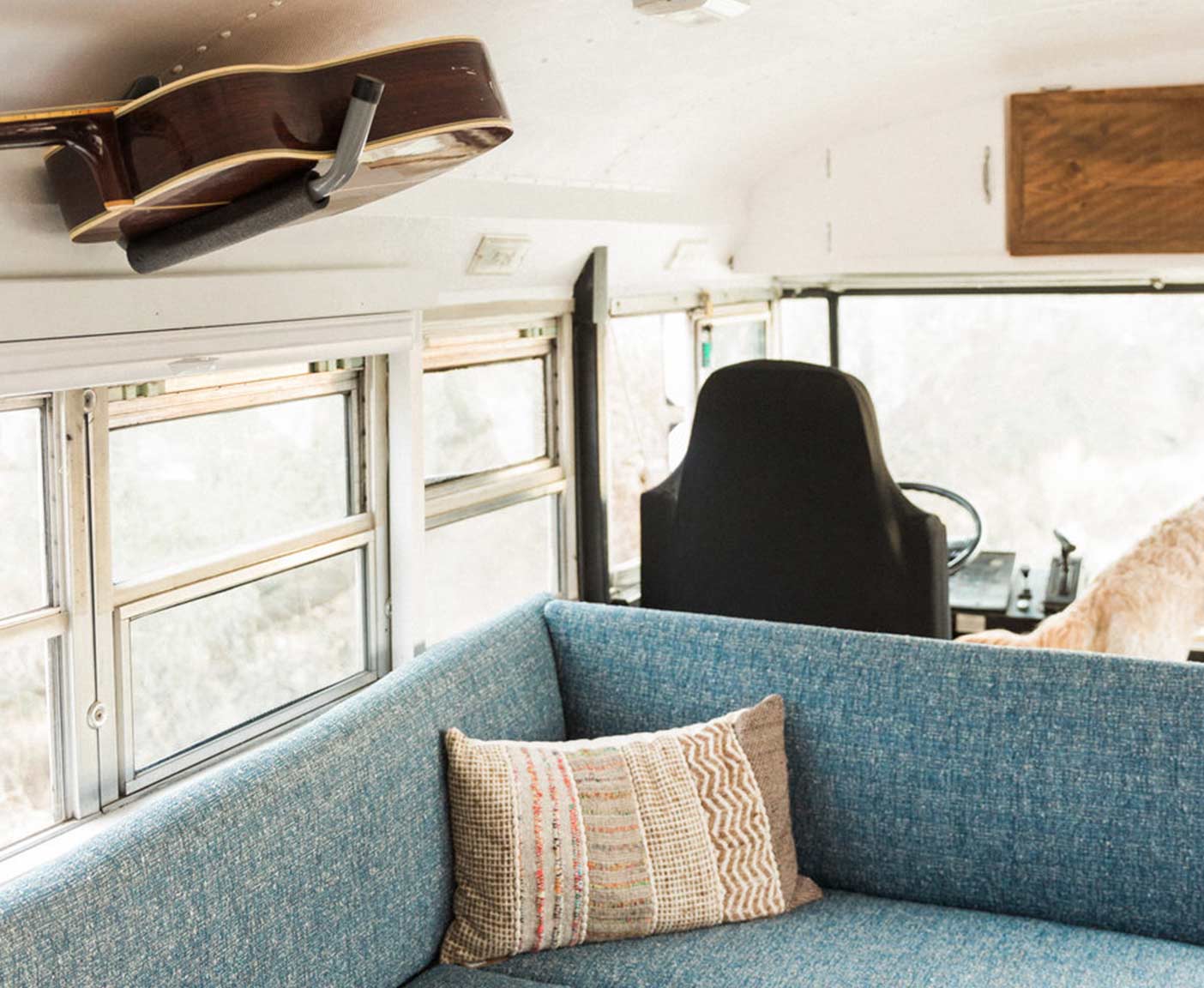 What tipps would you give new vanlifers (especially families)?
I would urge families to be patient with themselves in the beginning. Its quite a learning curve that can be a bit frustrating, but push through it! It will be worth it!!
There is a honeymoon phase and then sometimes it can get a little tough when you are trying to juggles raising kids as well as living nomadically. It can be a lot to navigate, but you can do it!
You'll be a better person for it and your family will be stronger because of it.
Do you sometimes make new friends on the road/meet other van lifers?
Oh ALL THE TIME! Meeting new people is one of our favorite parts of traveling!!! We have met some of the most generous, giving people ever through our travels.
There is certainly not a lack of community when it comes to traveling. As travelers too we meet up with other skoolie folk or other van lifers and its always a good time hanging out with other likeminded people.
What are your future plans when it comes to traveling/living in your International Amtran?
Well, we never imagined we would be doing it for this long, but we really can't imagine doing anything else! We love it! We have been considering selling our bus and building out a new one, but that could be a year or so away.
We'll see where the wind blows and what makes sense to us as we keep moving through life.
Follow us on our website.

///////////////////////////////////////

Wer Lust auf Informationen zum Camper-Ausbau hat, der findet viele wertvolle Tipps und Tricks in diesem 220 Seiten Ratgeber über den Umbau eines Transporters zum Wohnmobil. Hier klicken.
Bewerte diesen Beitrag über den International Amtran:
(2 votes, average: 5,00 out of 5)

Loading...