International Bluebird – the family school bus
Alternative living is trend. This sweet little family from the U.S live in an International Bluebird Bus and love to bath their kid in a self build and huge sink.
Quick facts about your vehicle International Bluebird:
– Car Manufacturer: International
– Modell: Bluebird
– Year of construction: 1990
– how many seats: 32
– how many kilometers: 406.000
– cylinder carpacity: 7.6L
– consumption at 100km: 26L
– driving license classify: standard drivers license
– top speed: 65 mph
– motor fuel: diesel
– price: $2,000
– costs of repair per year: $8,000/2 years
– insurance: Allstate
– vehicle taxes: none
So tell us a bit about you and tell us – what made you want to start vanlife in a school bus?
We are a young married couple that love exploring. We have done various cross country road trips so we figured, why not take our home on the road with us and get a vehicle that we can live in.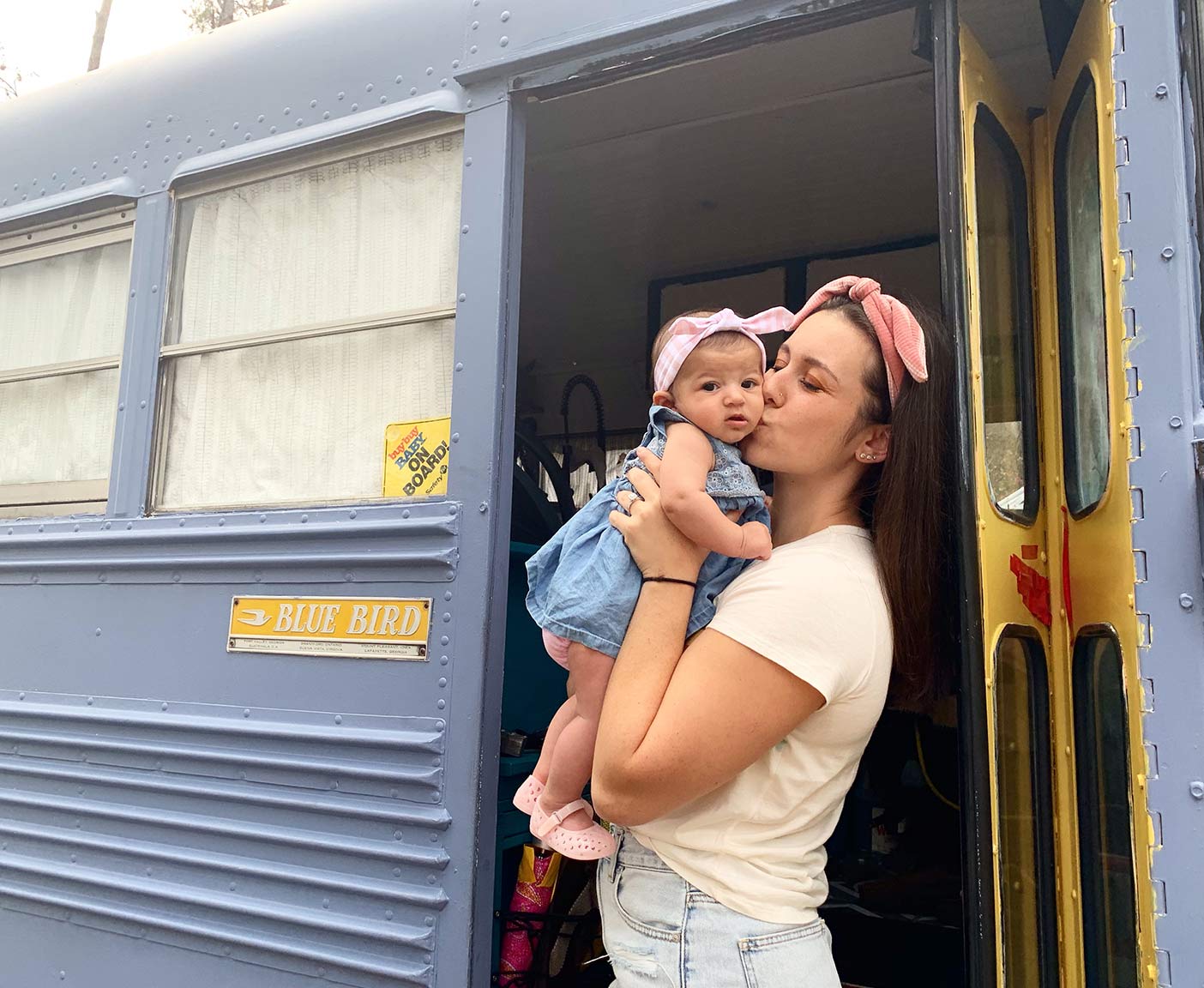 Why did you choose the Internati

onal Bluebird as your home on wheels?
We liked the idea of making the school bus completely our design versus an RV which is pretty much already built out.
Where did you find it and in what condition was it?
We found it on Craigslist about 20 minutes away from where we were living and it was in pretty good condition. Minimal rust and running good.
Did you work anything on your International Bluebird yourself or did you get a carpenter for the interior?
We did all of the work ourselves, and with a good friend and family.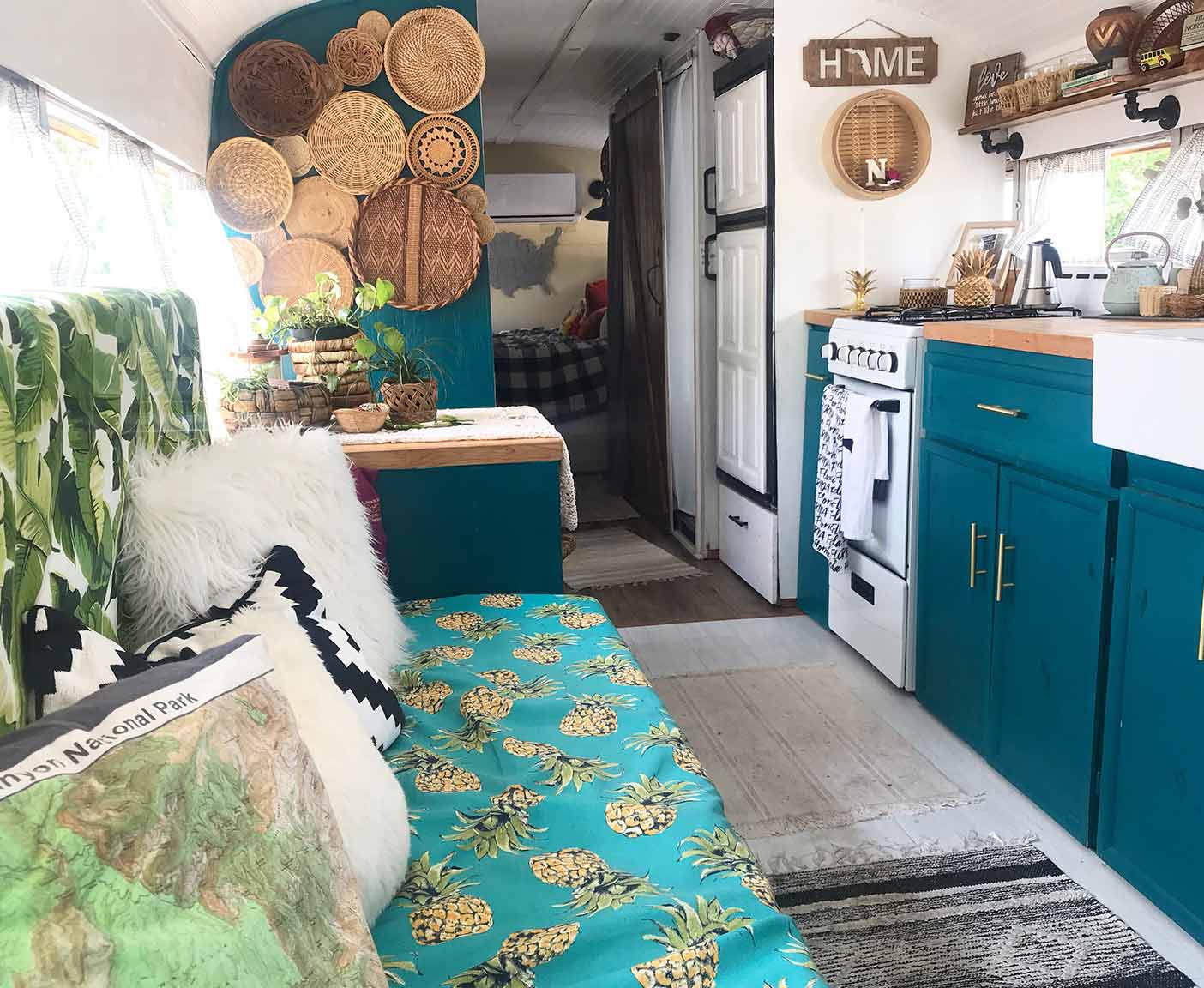 You have loads of space – whats really special about your interior? (you can name as much as you want)
We love a lot about our interior. For one, the huge sink is great for baby baths, dishes, and storing the decor when we drive. We also really like our large shower.
It doesn't feel crowded in it at all despite being in a 180 square foot bus. It's so hard to narrow down what we like because there are so many aspects of our bus build that we thoroughly enjoy!
How long did you work on your International Bluebird before you moved in?
We worked on our bus for 2 years before moving in. We purchased it November 2016 and moved in December 2018.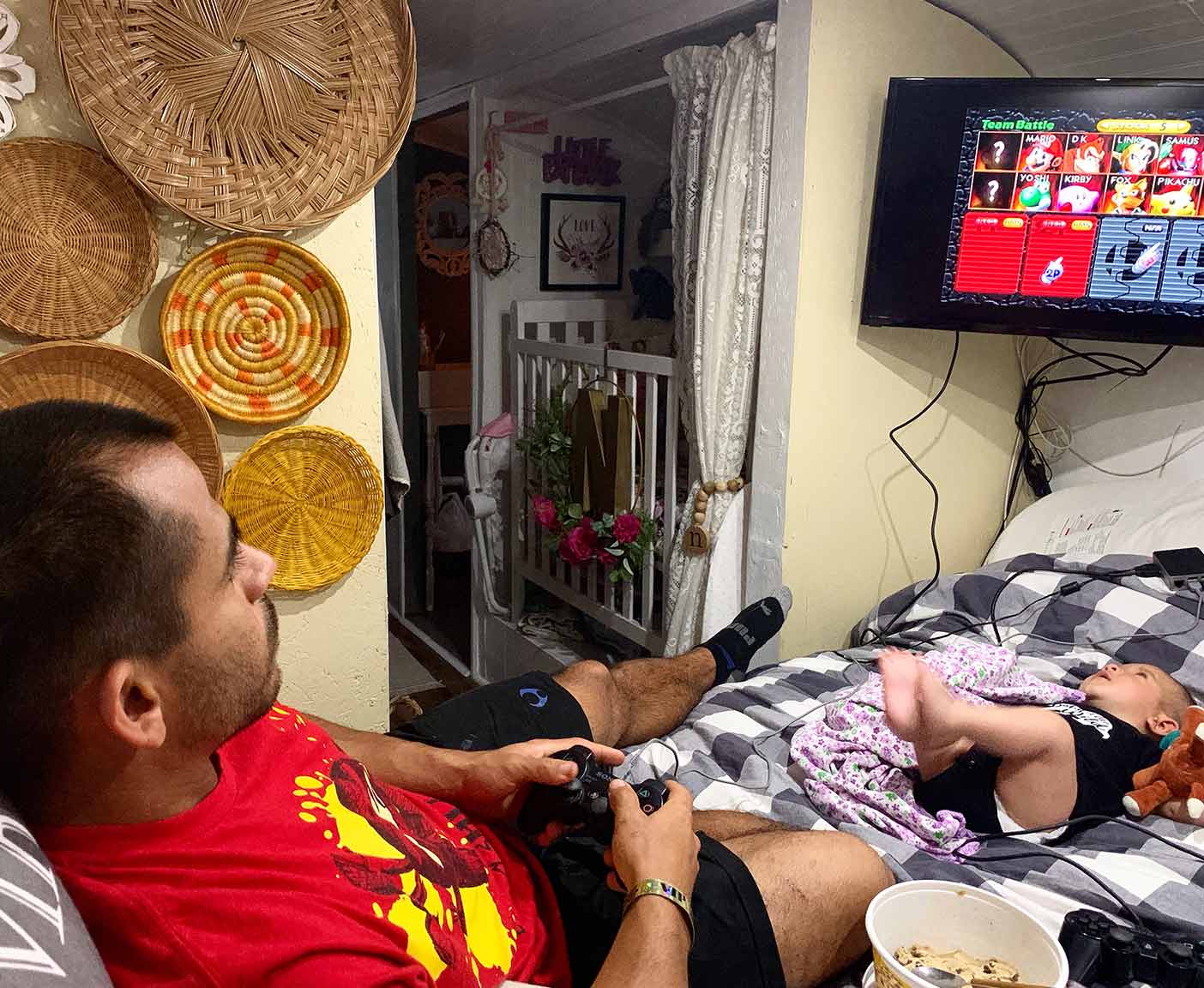 What do your friends and family say about your lifestyle?
They are very supportive and encouraging with everything. They all wanted to help with the bus build. Now that we're traveling they were so excited to see us following our dreams.
Which countries did you travel to with your International Bluebird?
We have only been in the US for now, but will be going to Canada this summer.
How long are you on the road and – do you life in your vehicle fulltime?
We live full time in our bus. We are on the road for the next few months. No set return date, but probably late August.
Some people prefer campsites for the night, others love free camping somewhere in the middle of nowhere. What do you prefer and why?
We like both! Sometimes it's nice to plug in because we know it's guaranteed water and electric. But free camping in the middle of nowhere gets you some of the best views that you wouldn't find otherwise!
How do you shower?
We have a shower in our bus! It has two shower heads, one detachable so we can swing it outside for an outdoor shower.
How do you cook?
We have a gas 4 burner stove with an oven that we love cooking with. We also use our instant pot a lot for quick meals with minimal mess, and sometimes an electric grill.
Tell us – what makes travelling and living in a school bus such a great experience?
This lifestyle is amazing for so many reasons- for one, we love that we can raise our baby in our bus and show her the world at such a young age.
We also like the freedom that the lifestyle brings, since we work from home and run our own business. Also, who doesn't love saving money and cutting out debt!
How much money do you spend in a month (roughly)?
Most of our money spent in a month (when we travel full time) goes to diesel. But it varies from place to place too. Sometimes we can do a lot of free sightseeing and other times and want to eat somewhere or go somewhere that has paid admission.
What tipps would you give van lifers with kids?
Don't be scared to go for it. Whether you have a baby, a toddler, or a teenager they will adapt. It's such a great experience for them to live this lifestyle. Our daughter was 5 weeks old when we moved in, so she really doesn't know any different than bus life.
We have a crib for her as well as the necessities. You don't need much to make a baby happy! She loves the bus and being outdoors and exploring.
Do you sometimes make new friends on the road/meet other vanlifers?
Yes! We love going to tiny house festivals because that's where we meet so many new friends in the community and network. It's great to travel alone but it's also amazing to meet up with other like minded people that we meet at these events.
What are your future plans when it comes to traveling/living in your International Bluebird ?
We plan to continue living in our bus until our family grows too much and we outgrow it. Right now we have room to build a small bunk in our bedroom but after 2 kids we will probably outgrow it.
At that point we would want to either build another bus if we feel that we are meant to keep traveling, or a container home on land!
Follow us on Instagram.

///////////////////////////////////////

We wrote a book how to convert a campervan. Just click here.

///////////////////////////////////////

We are listed on Patreon now. Support us to deliver more content like the "International Bluebird".



You like that content? Just "International Bluebird" click on the star.
(1 votes, average: 5,00 out of 5)

Loading...